Investing in American CryoStem
Licensed Laboratory Partners
International Licensing Programs
Global partners can quickly take advantage of "turn-key" licensing programs that includes completed laboratory processing protocols, marketing materials and developed scientific products to collect process and store individual stem cell samples for clients with the confidence that they are providing cutting-edge science and services. Core to the platform is the collection, processing, storage and laboratory methodologies contained in our proprietary Standard Operating Procedures (SOPs).
Our licensing program can be broken down into four major categories;
(I) Whole adipose tissue collection, processing, storage and return delivery
(II) Stromal vascular fraction processing, storage and return delivery
(III) Mesenchymal cell processing, expansion, storage and return delivery
(IV) Mesenchymal cell culturing, conditioned media creation and storage
---
Our Licensed Facilities
American CryoStem continues to expand its international licensing program into emerging Regenerative and Personalized Medicine markets. We are committed to bringing our first in class adipose tissue based stem cell platform into the forefront of the industry as our partners work within their regulatory framework to provide tissue and adult stem cell based services to their clients.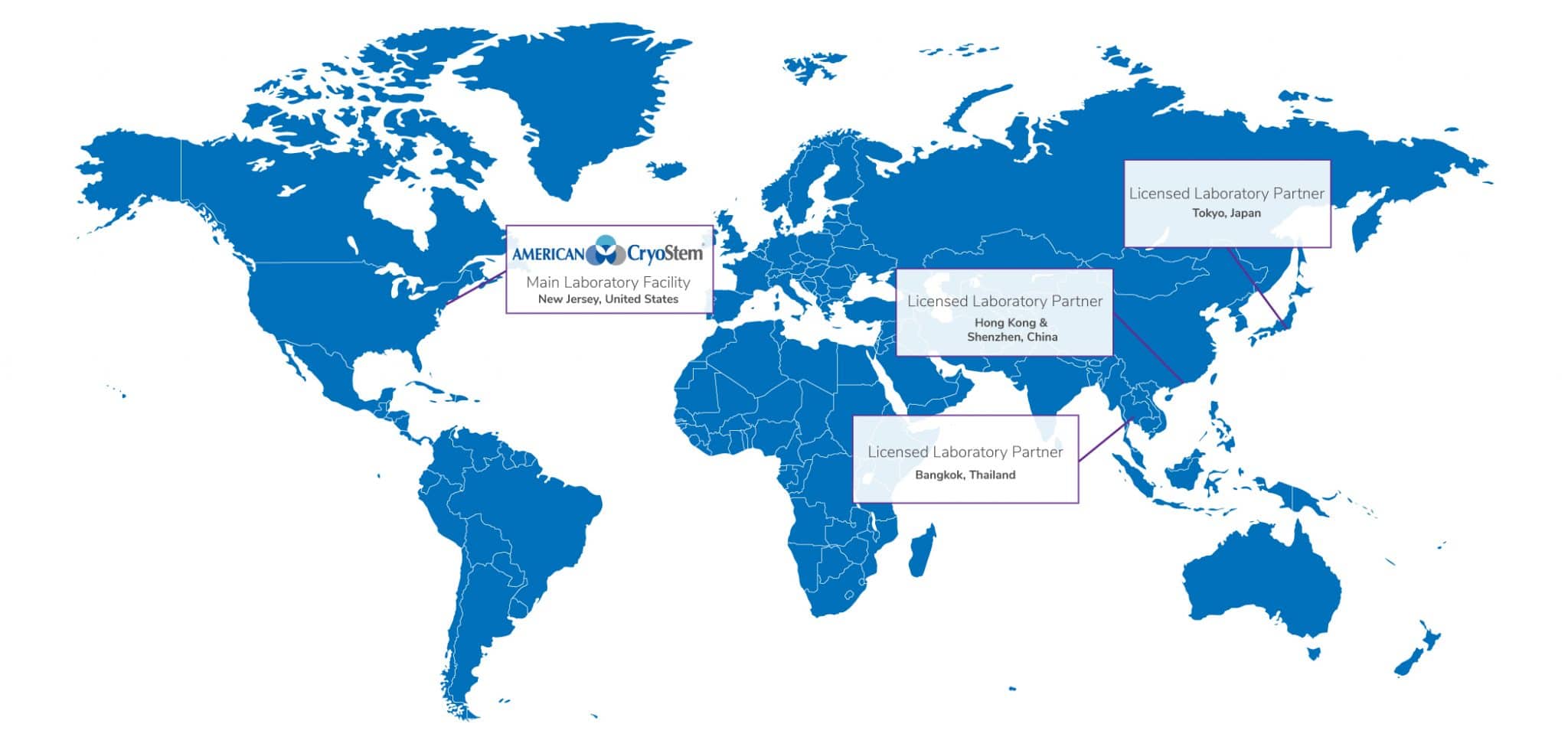 CellSource
CellSource Co., Ltd (CS), (www.cellsource.jp) currently operates a state-of-the-art cellular processing and banking facility utilizing American CryoStem's technologies under a licensing agreement executed in 2015. CellSource is the laboratory affiliate and processing facility for a number of spa's and clinics in Japan that currently offer cosmetic and regenerative medicine procedures including cellular therapies, platelet rich plasma (PRP), cosmetic procedures including liposuction, tissue transfer, dermal fillers and cell and tissue banking through an established chain of surgery centers under "the Clinic" brand throughout Japan.
Founded in 2015, CellSource is leveraging their participation in the regenerative medicine market in Japan by working with American CryoStem to obtain additional regulatory approvals and expand their cellular therapy offerings. CellSource is located in Shibuya, Tokyo, Japan.
Health Innovative Technology Corporation Limited
Health Innovative Technology Corporation Limited (HIT) (www.healthinnotech.com) is a healthcare platform dedicated to safeguard the health of people in Greater China by introducing various innovative and scientifically proven biomedical technologies from around the world, including stem cell storage and genome diagnostic services. HIT strives to promote global development of life science and medical technology by supporting research projects around the globe. HIT imports cutting-edge life science technologies that may contribute to health prevention.
Cryoviva (Thailand) Ltd.
Cryoviva (Thailand) Ltd. was established in 2007 with the cooperation of leading companies in the world such as Indorama Ventures Public Company Limited Thailand, Cryoviva Biotech Pvt. Ltd. (formerly known as Cryobanks International India) and RJ Corp India. Cryoviva is part of a large group engaged in healthcare comprising of stem cell banks, stem cell expansion facilities, diagnostic labs and centres and a maternal hospital. The Company has been certified by AABB and the ISO 9001: 2008 Quality Management System. Cryoviva (Thailand) Co., Ltd. is the only stem cell bank that has been approved by the Board of Investment of Thailand (BOI) and accredited by AABB in Thailand and awarded Frost & Sullivan's Thailand Stem Cell Company of the year for three consecutive years between 2015-2017.