EATONTOWN, NJ / ACCESSWIRE / July 12, 2018 / American CryoStem Corporation (OTC PINK: CRYO), a leading strategic application developer, marketer, and global licensor of patented adipose tissue-based cellular technologies, for the Regenerative and Personalized Medicine industries, today announced the national launch of CRYO's ATGRAFTTM tissue collection, processing and storage technology by Baoxin Asia Pacific Biotechnology (Shenzhen) Co. Ltd. ("Baoxin") in China. John Arnone, CEO and Anthony Dudzinski, COO, of CRYO traveled throughout south east China with the management and marketing team of Baoxin to present the ATGRAFTTM platform to leading plastic and cosmetic surgery hospitals in Shenzhen, Nanning, Guangzhou, Guangxi and Changsha. Additionally, Mr. Arnone and Mr. Dudzinski, attended the signing of investment documents between Baoxin and Chinese government and Banking officials in Shenzhen, China as well as the official launch presentation and evening gala hosted by Baoxin in Shenzhen. Baoxin is being financed by a combination of China's CITIC Group and the China Development Bank.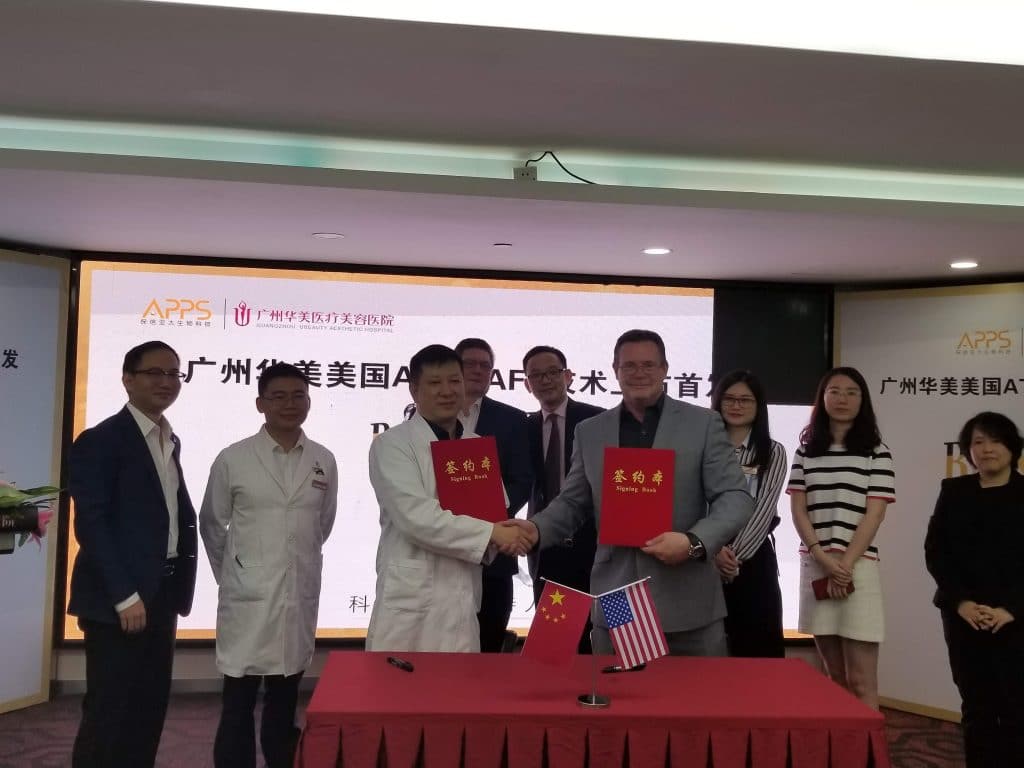 American CryoStem Corporation is one of the largest commercial personal tissue banks globally, focused exclusively on the processing and storage of adipose tissue and the regenerative cells the tissue contains. The China launch activities are in support of the Company's previously announced licensing and supply agreement with Baoxin, under which Baoxin will pay the Company a minimum annual guarantee against a fixed fee per process and purchase certain necessary consumables from CRYO required for the collection, processing and storage of the collected adipose tissue. Under the terms of the Agreements signed in Fiscal 2017, CRYO invested in and currently holds five percent (5%) of Baoxin shares. Additionally, Mr. Arnone and Mr. Dudzinski were elected to serve as Directors of Baoxin during their visit to Shenzhen, China.
The Company's management presented an overview of the ATGRAFTTM products and technologies to MOII Plastic Surgery Hospital and Fuhua Plastic & Aesthetic Hospital in Schenzhen, GuangMei Plastic Surgery Hospital and UBeauty Hospital in Guangzhou, AIST Plastic Surgery Hospital and, HauMei Plastic Surgery Hospital in Guangxi and the Nanning Beautiful Focus Cosmetology Hospital in Nanning, and the Yamei Aesthetic and Plastic Surgery Hospital In Changsha. Additionally, the Company participated in a press conference following Baoxin's financing signing ceremony at the government building in Shenzhen and presented at the Baoxin dinner launch event featuring major health and cosmetic surgery industry organizations in China. Event photos can be found by following this link: American CryoStem ATGRAFT launch in China
"We were very impressed with the Baoxin, ATGRAFTTM marketing program and work ethic and would like to congratulate Baoxin's management and marketing staff for a very impressive and effective launch tour," commented John Arnone, CEO, "the professionalism and interest generated in the ATGRAFTTM product prior to our arrival contributed greatly to the successful presentation at each hospital. We were also impressed by the organization and scale of the facilities we visited, each facility provides a wide range of cosmetic, aesthetic, and plastic surgical services in a single facility of ten to thirty thousand square meters, these are large facilities located in very large cities with heavy patient flow."
Anthony Dudzinski, COO commented "The Chinese aesthetic, cosmetic and plastic surgery hospital facilities in China are organized differently than the way these services are delivered in the US. Each hospital facility provides every cosmetic option for a patient from surgical augmentations to cosmetic dentistry. We believe that this organization style is perfectly designed to rapidly expand Baoxin's success with the ATGRAFTTM products and allow the Chinese to prepare for the future of regenerative and cellular therapies. Further, management believes that China may become one of the largest markets in the world for tissue transfer and regenerative medicine."
Trip photos may be found at: https://www.americancryostem.com/china-press-tour/ or via Google Photos
This press release may contain forward-looking statements, including information about management's view of American CryoStem Corporation's ("the Company") future expectations, plans and prospects. In particular, when used in the preceding discussion, the words "believes," "expects," "intends," "plans," "anticipates," or "may," and similar conditional expressions are intended to identify forward-looking statements. Any statements made in this press release other than those of historical fact, about an action, event or development, are forward-looking statements. These statements involve known and unknown risks, uncertainties and other factors, which may cause the results of the Company, its subsidiaries and concepts to be materially different than those expressed or implied in such statements. Unknown or unpredictable factors also could have material adverse effects on the Company's future results. The forward-looking statements included in this press release are made only as of the date hereof. The Company cannot guarantee future results, levels of activity, performance or achievements. Accordingly, you should not place undue reliance on these forward-looking statements. Finally, the Company undertakes no obligation to update these statements after the date of this release, except as required by law, and also takes no obligation to update or correct information prepared by third parties that are not paid for by American CryoStem Corporation.
SOURCE: American CryoStem Corporation